About: Our Mission and History
The Association for the Accreditation of Human Research Protection Programs, Inc. (AAHRPP) promotes high-quality research through an accreditation process that helps organizations worldwide strengthen their human research protection programs (HRPPs).
An independent, non-profit accrediting body, AAHRPP uses a voluntary, peer-driven, educational model to ensure that HRPPs meet rigorous standards for quality and protection. To earn accreditation, organizations must provide tangible evidence—through policies, procedures, and practices—of their commitment to scientifically and ethically sound research and to continuous improvement.
AAHRPP accredits high-quality human research protection programs in order to promote excellent, ethically sound research. Through partnerships with research organizations, researchers, sponsors, and the public, AAHRPP encourages effective, efficient, and innovative systems of protection for human research participants.
AAHRPP, through accredited research programs worldwide, will ensure that all human research participants are respected and are protected from unnecessary harm.
All of us at AAHRPP are accountable to our clients, our colleagues, and the public for setting high standards for human research protection. We share our knowledge and provide encouragement through our enthusiasm, responsiveness, and personal attention to each other and the people we serve.
We operate under high ethical standards to earn and sustain the trust and respect of the public, research participants, and the research community.
We constantly improve the accreditation process, so that it remains independent, unbiased and confidential, and responds to the needs of our clients and the public.
We include and partner with organizations and research participants and their communities to encourage best practices and set effective, reasonable standards that add value to human research protection programs globally.
Anti-Racism: Black Lives Matter
Like every human being around the world with a beating heart and a moral compass, we at AAHRPP are horrified and outraged by the continued onslaught of cold-blooded killings of Black Americans, whether they be perpetrated by those in positions of power (such as in the cases of, respectively, George Floyd and Breonna Taylor), or those whose stated purpose is to kill Black people, such as, most recently, at a Buffalo New York grocery store. These killings have laid bare the immense challenges we face as a society because of ongoing systemic racism, particularly in regard to the breach of common ethical norms regarding how those in power should treat those with little or no power.
It is AAHRPP's mission to defend and protect the safety and welfare of human beings. Painful moments like this across our country are a reminder of the importance of our work, as our mission is to protect all people and promote human dignity and ethical behavior. It will take all of us listening to and learning from our good-hearted fellow citizens and wise colleagues and working together to turn empathy and sympathy into righteous action. We are privileged to work in a field where our endeavors contribute to the advancement of our shared humanity. Even as our hearts are breaking right alongside those who are directly affected, we pledge that, in our words and in our deeds, AAHRPP will remain tireless in our dedication to uphold the time-tested principles of respect, beneficence, and justice, the values that will ultimately determine the fate of our future and soul of our nation.
AAHRPP Affirmatively Supports DEI
At AAHRPP, diversity, equity, and inclusion are at the core of who we are. Our commitment to these values is unwavering – across all our work and around the globe. They are central to our mission and to our impact. We maintain that building and sustaining diversity requires an ongoing commitment to inclusion that must find full expression in our organizational culture, values, norms, and behaviors. Throughout our work, we support diversity across all lines of difference, including age, economic circumstance, ethnicity, sex, race, range of ability, religion, sexual orientation, and gender identity/ expression. We aim to lead by example, viewing and encouraging diversity as a fundamental and abiding strength of AAHRPP's community.
AAHRPP's 20th Anniversary
The Early Years: 2001-2005
The founding members moved quickly to develop new accreditation standards. AAHRPP's accreditation program—including comprehensive standards, a council on accreditation, and a team of site visitors—was officially launched in 2002. By the end of 2005, AAHRPP was the nation's sole accrediting body for research programs involving human participants.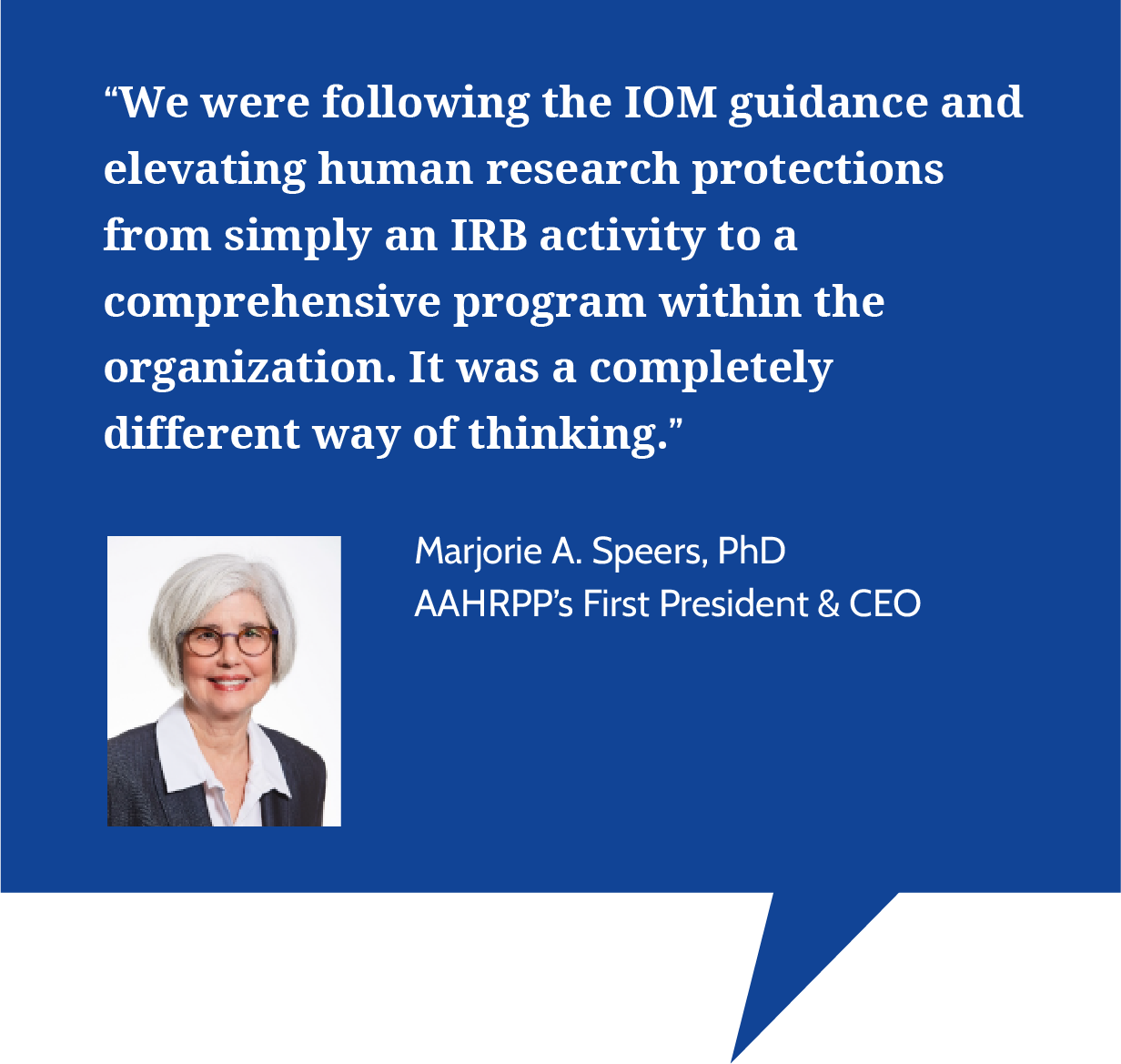 Reshaping the Research Enterprise: 2006-2012
In this time frame, AAHRPP made significant inroads throughout the research enterprise, accrediting organizations across the U.S. and, increasingly, in international markets. U.S. accredited organizations included hospitals, health care systems, academic medical centers, dedicated research sites, contract research organizations (CROs), independent IRBs, VA centers, government institutions, and research sponsors.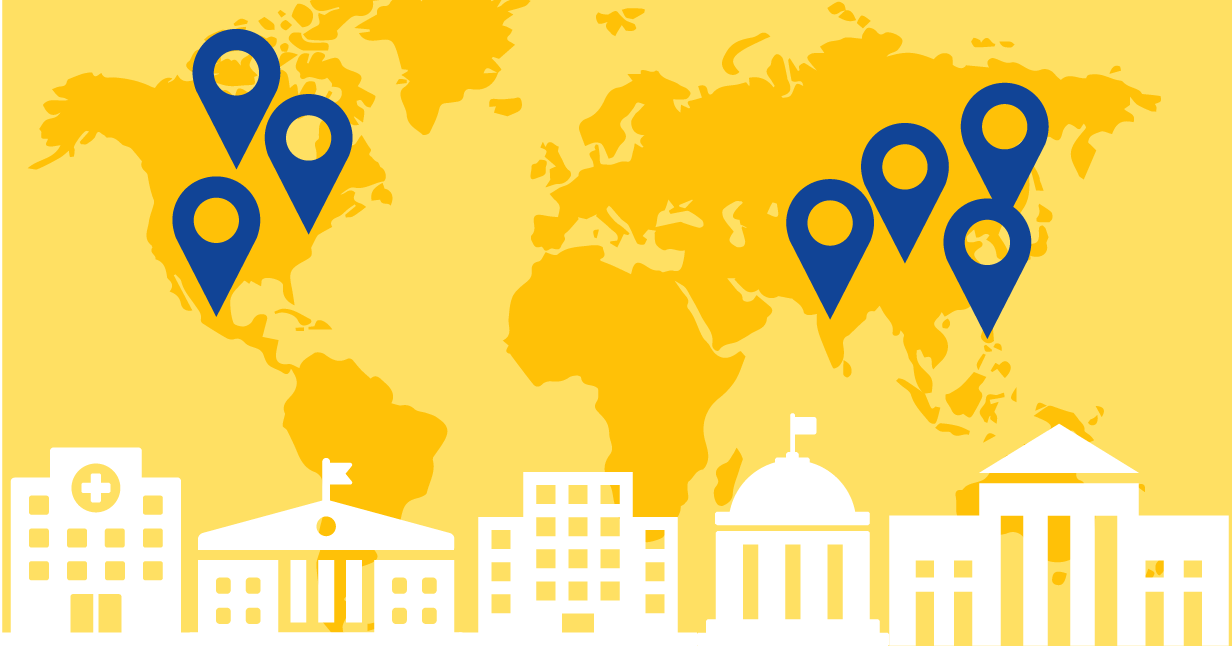 AAHRPP 2.0: 2013 – Present
AAHRPP accreditation had become the norm in the U.S. and was beginning to take root abroad. More than 180 organizations representing over 1,000 entities had earned AAHRPP accreditation. In addition, 60% percent of U.S. research-intensive universities and 75% percent of U.S. medical schools were either AAHRPP accredited or had begun the accreditation process.

A Promising Future
Looking ahead, AAHRPP is poised for further growth and impact. The organization remains the only accrediting body for HRPPs in the U.S. and the gold standard for research protections around the globe. AAHRPP's response to the pandemic and other challenges has increased the organization's stature as a thought-leader and showcased the advantages of being connected to the AAHRPP-accredited community.