Back to Advance Newsletter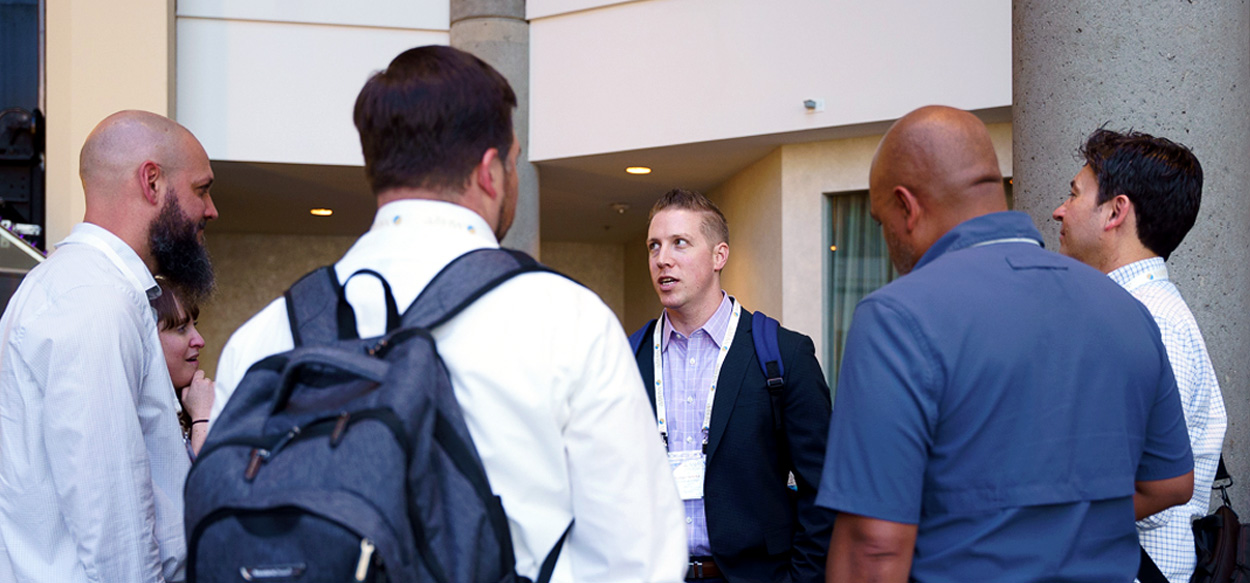 CAN Pre-Conference Fosters Collaboration, Connection Among Accredited Organizations

Members of the Collaborative AAHRPP Network (CAN) reconvened ahead of the 2023 AAHRPP Conference to weigh in on the pressing matters of today and tomorrow, including accreditation standards and metrics; ways to assess quality; engagement with diversity, equity, inclusion, and accessibility (DEIA); and, perhaps most of all, to reconnect and collaborate with colleagues in person.
Because of the pandemic, the pre-conference session was only the second in-person CAN meeting since the group's founding in 2019. Nearly 100 representatives of accredited organizations turned out to get the latest information and provide input that will help shape AAHRPP's response to issues affecting human research protection programs (HRPPs).

"We feel strongly that we should be responsive to the community's needs and what it is struggling with at the moment," says Michelle Fiege, MSW, LCSW-C, AAHRPP Executive Vice President, who helped facilitate the pre-conference. "We view the CAN as a great forum to touch base with accredited organizations, hear what they're dealing with, and collect the information that would be most helpful to them."

Following are brief recaps of the topics covered.

AAHRPP metrics: A CAN working group on this issue shared its progress and sought additional input on ways AAHRPP can enhance the metrics data it collects and publishes and reduce the reporting burden for accredited organizations. The group is expected to wrap up and report back soon.

Quality, effectiveness, and efficiency (QEE): Attendees heard two perspectives on quality assessment: One favors more concrete definitions and expectations of quality in AAHRPP standards. The other is more in line with AAHRPP's view that there are multiple ways organizations can ensure quality—and, therefore, multiple ways to fulfill the standard. "Flexibility and creativity are at the heart of AAHRPP's approach," says Nichelle Cobb, PhD, AAHRPP Senior Advisor for Strategic Initiatives, including the CAN. "We provide the impetus and the infrastructure but like to give accredited organizations the freedom to operate in the way that makes the most sense for them." The CAN and AAHRPP will continue their work on this issue.

DEIA: AAHRPP and accredited organizations feel strongly that their emphasis on ethics and principles of justice requires an unwavering commitment to DEIA. A primary goal of this session was to get input on whether organizations want that commitment to DEIA spelled out in AAHRPP's standards. This session also helped lay the groundwork for an upcoming AAHRPP CAN working group on this topic.

Participant perspectives on research protections: As with DEIA, AAHRPP and accredited organizations count community outreach and participant engagement among their core values. The CAN discussions represented an important step in identifying ways to advance and improve community engagement and consider its connection to DEIA.

AAHRPP's standard on emergency preparedness: Because this is AAHRPP's newest standard, accredited organizations are just beginning to receive feedback on—and have questions about—their approach to compliance. Attendees welcomed the opportunity to hear from colleagues and appreciated what one participant described as AAHRPP's "focus not just on the 'what' but also on the 'how.' "

Single IRB (sIRB) review: Accredited organizations continue to struggle to meet AAHRPP's Standard 1-9 for sIRB. Many find it even more challenging to adapt to the changing IRB environment, including additional regulations for sIRB review. Much of this session served as a forum for attendees to share frustrations and concerns. AAHRPP will factor this feedback into decisions on whether to change its approach to Standard 1-9 and related communications.
Attendees found the CAN pre-conference valuable and enjoyable, with nearly all indicating they would return in the future. Of those who responded to a post-conference survey, about 90% said they were "very" or "extremely satisfied." More than 96% plan to attend next year.
Equally gratifying were comments like these:
"The opportunity to interact with others as invested in AAHRPP—and with HRPPs in general—in a more intimate setting was priceless."
"I appreciated AAHRPP asking for insight, suggestions, and comments about potential new standards (e.g., DEIA)."
"The interactive structure of the conference was great. I really valued the exchange of ideas and the opportunity to connect and collaborate."
"I came back with soooo many ideas to share with our HRPP team."