Back to Advance Newsletter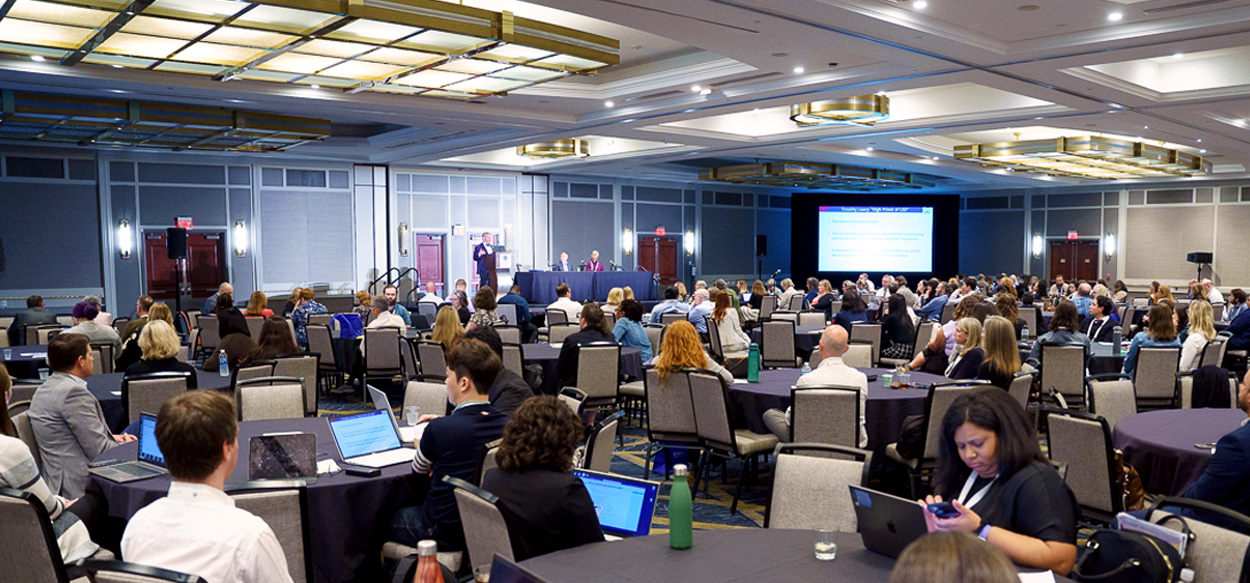 Conference Plenaries: Navigating Increasingly Complex Issues
AAHRPP conferences are known for tackling timely, often thought-provoking topics. This year's plenary sessions continued the tradition, featuring panel discussions on three complex issues: the legislative climate, multi-cancer detection screening, and the ethics of research on psychedelic substances.
Following are summaries and highlights from each session. If you registered for the conference, you can view the sessions in their entirety online. You also can download supporting presentations. Simply log in to the attendee hub to access all on-demand conference content.

Changes in the Legislative Climate: Consequences for Participants and Research

Under the 10th Amendment of the U.S. Constitution, powers not specifically granted to the federal government remain the rights of "the people" or individual states. Recent Supreme Court decisions have exacerbated the patchwork of conflicting state laws that make it difficult to apply consistent policies for overseeing research. In addition, the increased use of federal executive orders, typically to reverse acts of prior administrations, creates a sense of "whiplash" and compounds the situation. As examples, presenters highlighted research-related challenges created by disparate laws affecting data privacy, LGBTQIA+ rights, and reproductive health.
During the plenary, presenters provided the following suggestions:

Draw on lessons learned from past experiences navigating restrictions on research.

Strengthen community engagement and researchers' understanding of community sensitivities.
Acknowledge participants' concerns about privacy and consider drawing conclusions from aggregate data that cannot be individually identifiable.
Know the law; consult with the legal experts.
Consult and collaborate with colleagues to discover how best to move forward with fidelity to your values, ethics, and communities.
One Stop Shopping: The Promise and the Peril of Multi-Cancer Detection Screening
The prospect of using a single test to screen for multiple cancers is generating considerable excitement. But before multi-cancer early detection (MCD) assays can be deployed on a larger scale, physicians, patients, and payers need evidence that using these new technologies will improve health outcomes.
To evaluate MCDs and other novel cancer screening technology, the National Cancer Institute (NCI) has established a new Cancer Screening Research Network (CSRN) and begun identifying MCD assay developers to participate—first, in a feasibility study and, later, in a large, randomized controlled clinical trial. The key question for any MCD-related study, presenters said, is not whether an MCD test detects cancer but whether the benefits of MCD screenings outweigh the harms.
Study design will address that and other ethical concerns, including:

Ensuring equitable recruitment and equal access to testing and appropriate follow-up diagnostic care and treatment.
Preventing erosion of public trust in cancer screening recommendations and publicly funded cancer research.
Resolving the tension between justice and the scientific goal of external validity.
Balancing the competing ethical principles of autonomy and beneficence when deciding whether to return research results to participants.
Psyched About Psychedelics: The Ethics of Research on Psychedelic Substances
Recent years have brought a shift in both popular and regulatory perspectives on psychedelic therapy and research. Clinical trials are providing increased evidence of the therapeutic efficacy of psychedelics in treating major depressive orders, treatment-resistant depression, substance use disorders, and depression and anxiety in patients with late-stage cancer.
As of the conference date, nearly 200 trials of psychedelic substances were registered on clinicaltrials.gov. In June, the FDA issued draft guidance on "Psychedelic Drugs: Considerations for Clinical Investigations."

After providing a brief history on U.S. attitudes toward psychedelic drugs and research, plenary presenters focused on best practices for research administration and lessons from the front lines.

Highlights include recommendations for:
Careful screening to exclude research participants who have cardiovascular risk, are at risk for psychosis, or are taking contraindicated medications.
Careful preparation, including at least six to eight hours of rapport-building and unstructured counseling for patients.
Close monitoring during acute effects; sessions typically last six to eight hours.
IRB topics to consider—patients' prior use of pain and other medications, requirements for history of failed treatments, number and qualifications of lead and assistant monitors.
For all three plenary presentations, attendees had the option of taking a "deep dive" during follow-up sessions later in the day.

Special thanks to our plenary panelists and moderators: Amy Ben-Arieh, JD, MPH, The Fenway Institute at Fenway Community Health; Linda Coleman, JD, Yale University; Heather Pierce, JD, MPH, Association of American Medical Colleges; Nancy M. P. King, JD, Wake Forest University School of Medicine; Lori Minasian, MD, FACP, National Cancer Institute; Carol J. Weil, JD, consultant, Human Research Protections and Bioethics; Frederick S. Barrett, PhD, Johns Hopkins University School of Medicine; Paul Thambi, MD, Sunstone Therapies; and David H. Strauss, MD, Columbia University.